After seeing Road.cc's light test I almost didn't want to review any type of light, like, ever again. Seriously, I was gonna quit.
Portland Design Works Danger Zone
But Boredom's no quitter. Besides, Portland Design Works was generous enough to send me one of their Danger Zone ($37.00USD) tail lights, so how would that make them feel? That's right, Sad PDX Panda. Also, Boredom's a nearly 2 decade blinkie connoisseur, so I know what I'm talking about.
I got this.
Nice Box –  PDW Danger Zone
PDW always has the sweet boxes for their product line. As a designer I appreciate this. It makes the purchase and subsequent ownership taste much better.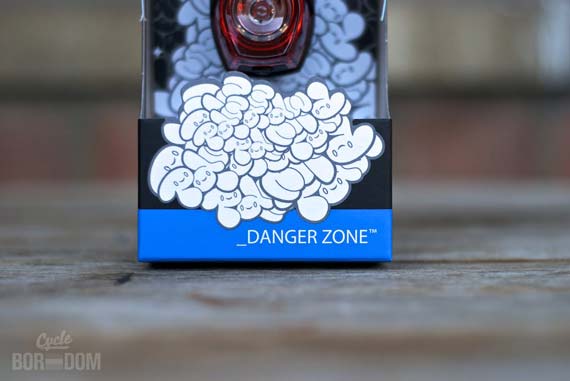 So much of what's stocked in shops is totally lackluster in visual effort. Of course the product has to work, but why can't the package look good as well? There's a small percentage that get it. That extra effort truly adds to ownership. At least it does for me.
I'll stop now.
The Light – Describing The PDW Danger Zone
First off, the Danger Zone just looks different. And by different I mean good. Two Nichia .5 watt red LEDs create the bulk of the light's structure. Most lights are hidden behind a translucent reflector type plastic cover. These, however are exposed to provide those riding your ass two blinding blasts to their dome pieces. Or, more appropriately, like Wonderboy's #YellowShield this forms a #SafetyShield.
Not only does it look different, the DZ performs differently. The zZz mode resembles a tower light, a-HA! flashes to the song by a-Ha! "Take on Me", and lastly Rock Steady is rock steady. I prefer zZz during early dusk and a-HA! for night use. The pulse of zZz isn't so obnoxious that fellow commuters will want to whack the light off in annoyance. However, all pleasantries are off once the sun penetrates the horizon. a-HA! may be styled after the 80s alt-hair band, but it reminds me more of drum & bass. It definitely gets peoples' attention.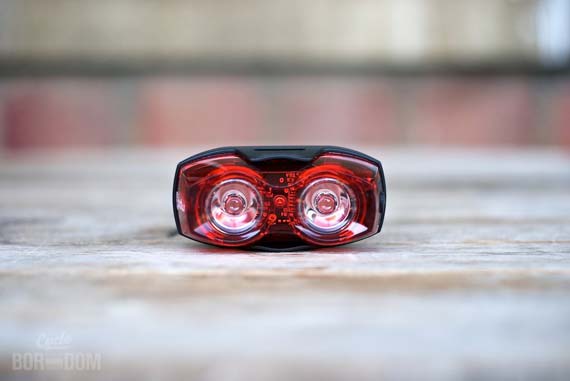 The on/off button located on the bottom is easy to push and activate the light. I can't count the number of times companies place buttons in an unreachable spot, or made it impossible to depress. This is not the case here. Countless times I start riding only to remember my butt ain't lit. After a quick reach-around, finding the button is easy and the click is positive—I know I'm glowing.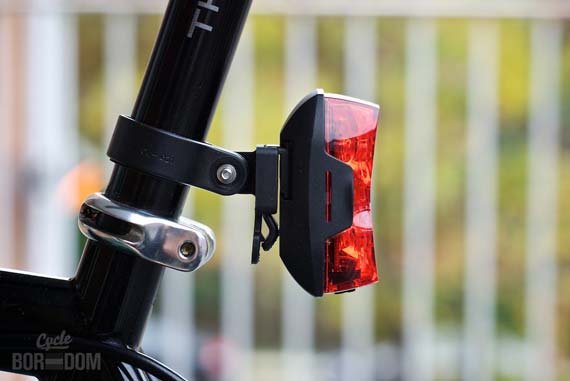 Other Details of the PDW Danger Zone
I don't have a Bright-o-meter™ like Road.cc, nor do I have any patience for figuring out how to calculate usage hours. I turn it on, it blinks, and people see me. When it starts to get dim (it hasn't yet), I'll change the batteries. PDW rates it at 50 hours run time. However, the 1.21 gigawatts needed to power the Nichia LEDs comes at a price. And that price is 2 AAA batteries (included).
One minor caveat—rechargeable bike lights are becoming more prevalent. Even some of cheaper rear light options are starting to go the Lithium-Ion way. But considering the amount of time and number of commutes I've been using this thing on the first set of batteries, that's a rather insignificant caveat. It should also be noted there are lights running at 100 hours, but not exactly the same light configuration. Not exactly sure what the difference in energy drain is between 2 .5 watt LEDs and a single watt LED.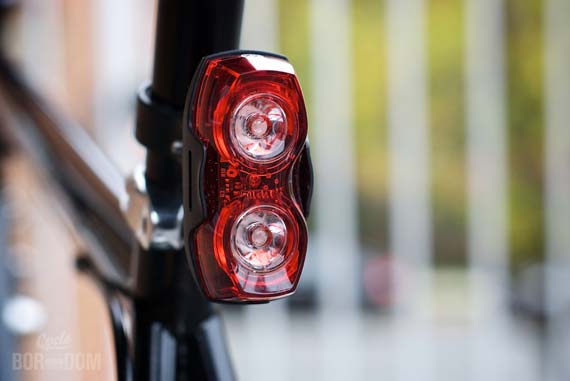 There are competing models with full 1 watt LED available for roughly the same price. In order for them to produce the cray flash patterns we so desire in our performance blinkies, they typically add a couple extra non-rated LEDs. Whether or not that setup is brighter than PDW's pattern hammered out by two half-watts, I cannot say. I will say I like the intensity and atypical pattern of the Danger Zone in comparison to others I've come across on the trails.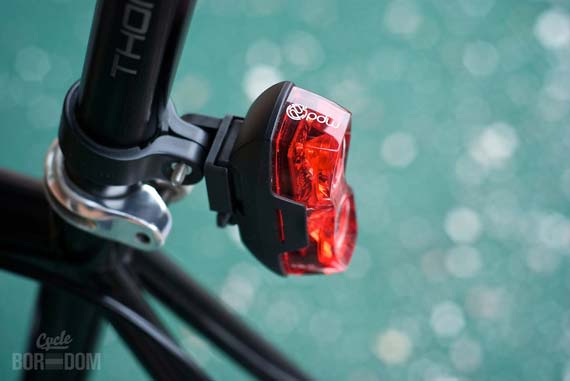 The mount does the job. If I was being picky, and I am, there are few things I'd like to see on future models. I would love for it to be toolless installation. Granted, it ain't hard to get it on, but just twisting a knob is satisfying. Once snapped into place, the light's body moves ever so slightly in the mount. Not a huge deal, but an opportunity nevertheless.
Lastly, I've ridden this thing in several downpours and at least one deluge. I have yet to fully submerge it, but regarding riding in the rain, it keeps the outside from coming inside.
Final Thoughts and Rating
On one hand, it's a blinkie. On the other hand, it's your rear guard protection against unwanted entry into your stern. If your purchase choice is based on the former, then good luck with that. If you're along the lines of the latter, the Portland Design Works Danger Zone is one of the top non-rechargeable rear lights available. It's simply friggin' bright.
If PDW were to heed my opportunities (rechargeable, toolless installation, solid mount interface) and keep it in the same realm monetarily, this would corner the market like Billy Ray and Winthorpe .
PRO FACTORS: FRIGGIN' BRIGHT, eccentric flash pattern, interesting design.
OPPORTUNITES: Rechargeability, toolless installation, solid mount interface.
RATING: 95% – Just a bit better would make it better than everything.

LINK: PDW Danger Zone™ Tail Light
TWITTER: @portlanddesignw