Long Classic is Long
This is not my favorite race. Sorry. It's an unnecessarily long drag that's been pimped and altered and added to in order to make it more interesting yet still nothing happens until 95% of the course has finished—the quintessential Italian race. Once the peloton pulls the "PIANO" plug out of their collective asses and they actually race up and down the Poggio, any heroic gains are anesthetized by yet another unnecessarily long drag to the finish.
OMFG, that was fun.

But, Who's Going to Winnnnnn?!?
Alright, onto some more shit I don't care about: the picks. If Cav ends up… ugh, never mind. Speaking of the OPQSers, I'd take Stybar over anyone. Although Petacchi would be absolutely hysterical. Sagan? Peter needs to win a big boy race and it ain't gonna be de Ronde or Roubaix anytime soon. I'll admit a Degenkolb post up would taste goed while another Cancellara battle would make me spit up. Greipel? Naaaaah. Since Phinney won't be starting BMC will be a non-factor but that's not a surprise. Oh, and Nibali. Not that I think he'll be a factor, I just want to appease the inevitable, "What about Nibali?" trolling.
The only rider I'm gonna go with is the one I'm damn sure ain't gonna be  a factor: Heinrich Haussler. Now completely relegated to high-powered domestique in servitude to Chava why the f**k not? I will always have a softy voor Heino after, well, you know.
Let Us Now Reflect…
Lastly, in case you weren't already painfully aware, IT WAS COLD LAATSTE JAAR. #NEVERFORGET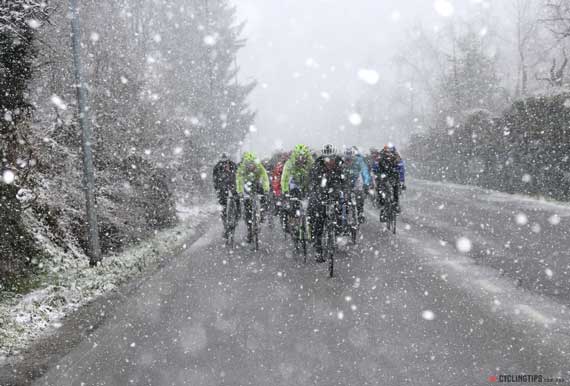 How The Race Was Won – Milan-Sanremo 2013 from Cosmo Catalano on Vimeo.
LINKS VOOR VIEWING
Cyclingfans
Steephill
ProcyclingLive